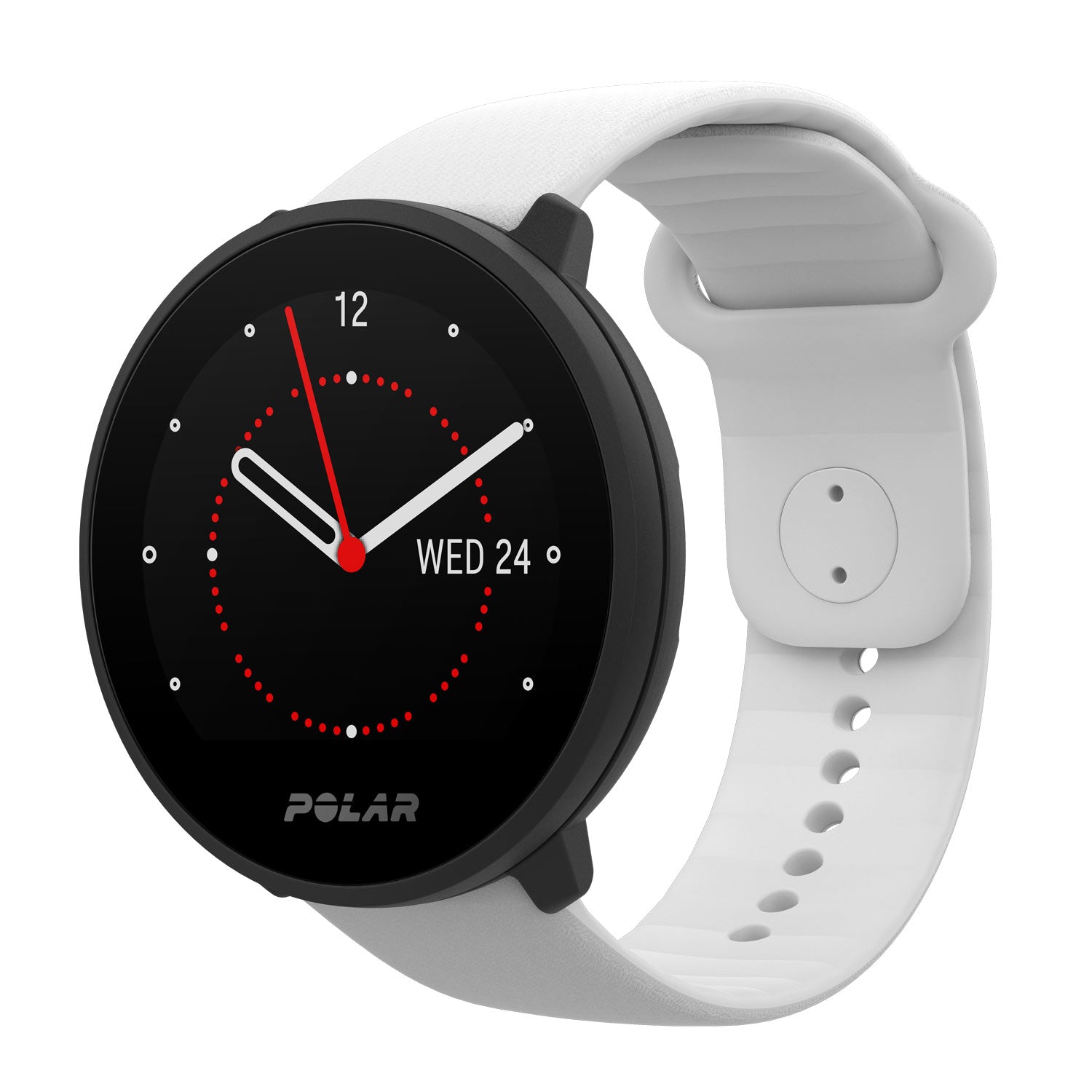 FITNESS WATCH WITH WRIST-BASED HEART RATE AND SLEEP TRACKING
Polar Unite is a waterproof fitness watch with advanced wrist-based heart rate and connected GPS. This well-rounded ultra light fitness tracker helps you sleep better, train smarter and find the balance in your life – it's your assistant on your way to better fitness.
FIND THE BALANCE WITH BETTER SLEEP & BETTER RECOVERY
Better sleep equals better recovery – and a more balanced life. With all pieces of the puzzle in place it's easier for you to discover your potential.
BUILD THE DAY ON THE NIGHT
The Nightly Recharge™ recovery measurement gives you daily feedback on how well you recover from stress and training during the night. This helps you make optimal choices during the day.
KNOW HOW YOU SLEEP
Follow your sleep stages and get detailed sleep insights with the Sleep Plus Stages™ sleep tracking. Getting easily understandable data about your sleep helps you make the necessary adjustments to get better sleep. 
BREATHE AND FOCUS
Relax your body and calm down your mind with the Serene™ breathing exercise. Making breathing exercises a new habit helps you manage your stress levels and sleep better.
YOUR HEART IS KEY: LISTEN TO IT AND TRAIN SMARTER
Tracking your heart rate is the basis for improving your fitness. When you have your heart rate divided into heart rate zones and clearly visualized on your wrist, you'll know exactly how hard you're working at all times.
NO MORE GUESSWORK
When you track your workouts with Polar Unite and work out with varying intensity, you'll know the benefits of each and every one of your sessions, and make sure you get the most out of every single workout you do.
DAILY TAILORED WORKOUTS WITH THE FITSPARK™ TRAINING GUIDE
Enjoy your personal on-demand ready-made workouts that match your recovery and readiness every day. FitSpark determines what workouts suit you best each day and gives you a selection to choose from.
FEATURE HIGHLIGHTS
Advanced wrist-based heart rate
Polar Unite tracks heart rate with the Precision Prime™ sensor fusion technology.
Sport profiles
Polar Unite supports over 100 different sports. Add your favorite sports to your watch in Polar Flow.
Nightly Recharge™
See how well you recover from your day during the night. 
FitSpark™ daily training guide
Get ready-made daily workouts that match your recovery, readiness and training history. 
Sleep Plus Stages™
Follow your sleep stages and get insights to your sleep quality. 
Serene™ breathing exercise
Relax your body and calm down your mind with the help of a guided breathing exercise. 
Connected GPS
Connect to your mobile phone to track your speed, distance and route.
Phone notifications
Stay connected with notifications from your phone. Get alerts for incoming calls, messages, emails, calendar events and more.
Watch face color themes
Choose the color of your watch face from multiple options and match with your wristband.
OTHER SMART COACHING FEATURES
Continuous Heart Rate
Get a comprehensive view on how your heart behaves during your day. Continuous heart rate monitoring gives you even more accurate calorie burn and activity data and tells you the lowest and highest heart rate of your day. 
Smart Calories
Know exactly how many calories you've burned based on your weight, height, age, gender, your individual maximum heart rate (HRmax) and how hard you're training. 
Training Benefit
Get motivating feedback immediately after training describing the effect of the session. 
Fitness Test
Test your fitness level easily in just 5 minutes without breaking a sweat. 
Works with Polar Club
If your gym uses the Polar Club group heart rate system, you can use Polar Unite to display your heart rate on the screen.
Running Program
Get a personal and adaptive training plan that fits you and your goals. 
Click & Collect
Frequently asked question
If you would like to Click and Collect your online order, simply choose "Click & Collect" at checkout. 
Please allow 1-2 days for Click and Collect orders to be ready for collection.
Convenient and complimentary, order online and collect in-store.
Please see our store opening hours for Click & Collect here.
Please allow up to 14 days for your personalised items such as club gear to be delivered.
Delivery Info
Fast Delivery
Delivery for orders in the Republic of Ireland is usually Next-Day if you place your order by 4pm. Some exceptions apply. Please allow up to 14 days for your personalised items such as club gear to be delivered.
Get In Touch
If you have any other questions about delivery or anything else, please don't hesitate to get in touch with us anytime! You can view all our delivery info here.