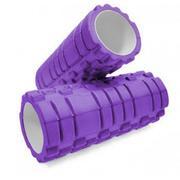 BETTER FOAM ROLLER
For Fitness & Wellbeing
RELIEVE MUSCLE PAIN & BOOST YOUR RECOVERY TIME:
Relieve aches, pains and muscle tension with a Foam Massage Roller. Roll muscles over the roller to break-up soft-tissue adhesions and target painful trigger points (muscle knots) that can develop after a workout.
DEEPER PENETRATING MYOFASCIAL RELEASE:
The foam roller features a hollow plastic core with a foam grid exterior for deeper penetrating myofascial release. The bumps act like the hands and fingers of a masseuse to target, loosen and release tight muscle knots far more effectively.
INCREASE YOUR PERFORMANCE FOR MAXIMUM RESULTS:
Rolling your muscles release toxins and increases the flow of blood and oxygen to the target area. Roll before a workout to increase your performance or use it after a workout to boost your recovery time and protect yourself from injury.
EVA FOAM CONSTRUCTION FOR COMFORT AS YOU ROLL:
The roller has been designed using EVA foam which is firm enough to deliver a deep muscle massage without feeling too harsh when you roll. Another benefit of EVA is that it retains it shape after heavy use, rather than degrading over time.
LIGHTWEIGHT & PORTABLE TO USE WHEREVER YOU GO:
The massage roller measures 33cm x 14cm. Its lightweight and compact design allows you to easily store and carry it to the gym, yoga classes, Pilates sessions and more. It can also be wiped clean for long-lasting and hygienic use.
Click & Collect
Frequently asked question
If you would like to Click and Collect your online order, simply choose "Click & Collect" at checkout. 
Please allow 1-2 days for Click and Collect orders to be ready for collection.
Convenient and complimentary, order online and collect in-store.
Please see our store opening hours for Click & Collect here.
Please allow up to 14 days for your personalised items such as club gear to be delivered.
Delivery Info
Fast Delivery
Delivery for orders in the Republic of Ireland is usually Next-Day if you place your order by 4pm. Some exceptions apply. Please allow up to 14 days for your personalised items such as club gear to be delivered.
Get In Touch
If you have any other questions about delivery or anything else, please don't hesitate to get in touch with us anytime! You can view all our delivery info here.