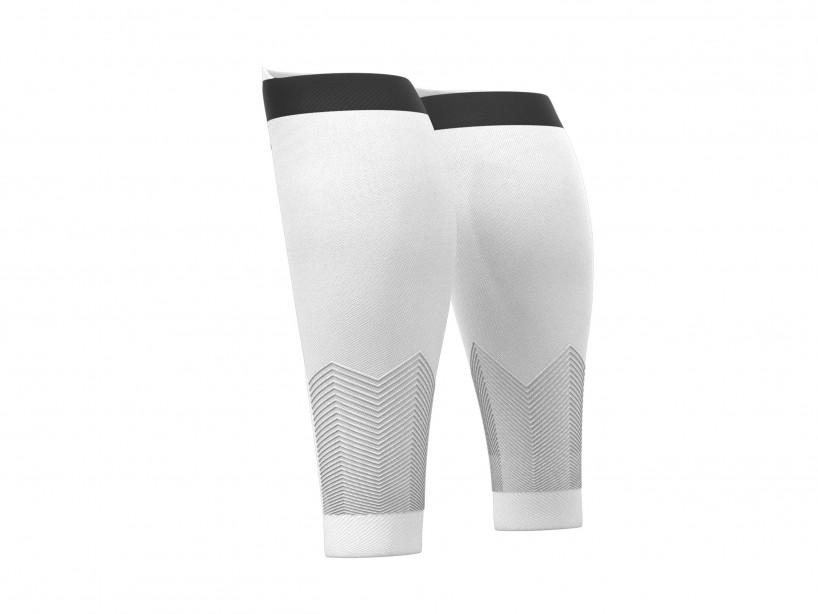 Compressport R2V2 Calf Guard - White
The R2V2 is without a doubt the most iconic, recognisable product of our range. The sleek, seamless black compression sleeve can be spotted everywhere from track sessions to race expos to finish lines, and has been on the podium of all major races across the globe. Scientifically-designed to shake the sports world with ultra-controlled, medical-standard technology, it set a new standard in compressionwear which we take pride in improving year after year. Our updated R2V2 features an exclusive new 3D waved knit: an innovative "waffel effect" technology which offers greater protection to the ankle and Achilles tendon. Improved vertical stretchability further increases comfort and fit. Worn before activities, the sleeve encourages blood flow and prepares muscles and mind for effort. During training and racing, the quick-drying fabric dampens vibrations to limit muscle damage, reduce pain and delay fatigue while reducing lactic acid build-up. The special knee tab is purposely designed to reduce shocks and discomfort around the knee when you're hurtling down rocky trails or beating along pavement. Whether you're aiming for a 10k PB or a UTMB ticket, the R2V2 is one of your most lethal weapons to take on the challenge.
KEY BENEFITS
Postponed fatigue and improved performance through reduced muscle vibration, helping you maintain speed and intensity for longer during effort
High-level muscle support to the calves, decreasing the risk of injury and cramps through targeted 360-degree compression
Optimal comfort thanks to increased vertical stretchability and improved fit : no irritation, no chafing, no slipping down or moving during your training session or race


Compressport R2V2 Calf Guard - White
Click & Collect
Frequently asked question
If you would like to Click and Collect your online order, simply choose "Click & Collect" at checkout. 
Please allow 1-2 days for Click and Collect orders to be ready for collection.
Convenient and complimentary, order online and collect in-store.
Please see our store opening hours for Click & Collect here.
Please allow up to 14 days for your personalised items such as club gear to be delivered.
Delivery Info
Fast Delivery
Delivery for orders in the Republic of Ireland is usually Next-Day if you place your order by 4pm. Some exceptions apply. Please allow up to 14 days for your personalised items such as club gear to be delivered.
Get In Touch
If you have any other questions about delivery or anything else, please don't hesitate to get in touch with us anytime! You can view all our delivery info here.