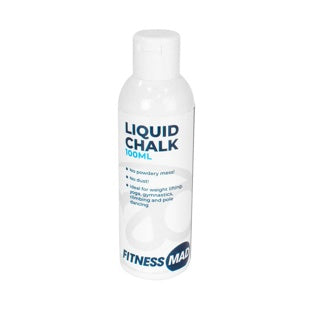 Description
Liquid chalk puts an end to worrying about losing grip! It does not harm, or transfer to, equipment or clothing and will not create a powdery mess that traditional powder, block, or chalk ball methods can leave. It's also a healthier alternative because it vastly reduces dust inhalation. Ideal for; pole dancing, climbing, gymnastics, yoga and weightlifting. Perfect size to fit into any gym kit bag. Contains 100ml of non-toxic liquid chalk.
Improves grip by reducing sweat
Less mess than chalk block, powder, or ball
Suitable for most sports: pole dancing, yoga, gymnastics, weightlifting, climbing & more
Product Details
Code: FLCHALK100
Brand: Fitness-Mad
Composition: Magnesium carbonate, alcohol, thickener
Dimensions: 12.5cm (H) x 3.5cm (DIA)
Weight: 115g
Warning: Do not use near eyes, do not take internally. Test first on a small patch of skin, if irritation or adverse reaction occurs, discontinue use immediately and seek medical advice.


Click & Collect
Frequently asked question
If you would like to Click and Collect your online order, simply choose "Click & Collect" at checkout. 
Please allow 1-2 days for Click and Collect orders to be ready for collection.
Convenient and complimentary, order online and collect in-store.
Please see our store opening hours for Click & Collect here.
Please allow up to 14 days for your personalised items such as club gear to be delivered.
Delivery Info
Fast Delivery
Delivery for orders in the Republic of Ireland is usually Next-Day if you place your order by 4pm. Some exceptions apply. Please allow up to 14 days for your personalised items such as club gear to be delivered.
Get In Touch
If you have any other questions about delivery or anything else, please don't hesitate to get in touch with us anytime! You can view all our delivery info here.