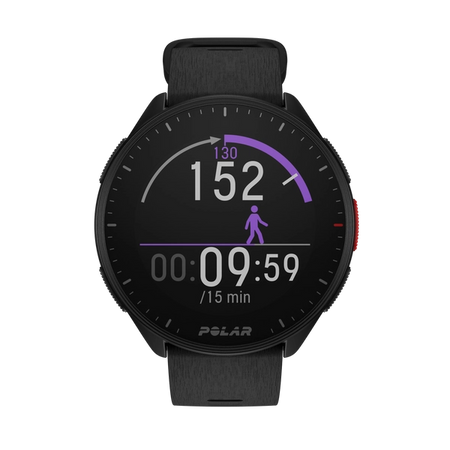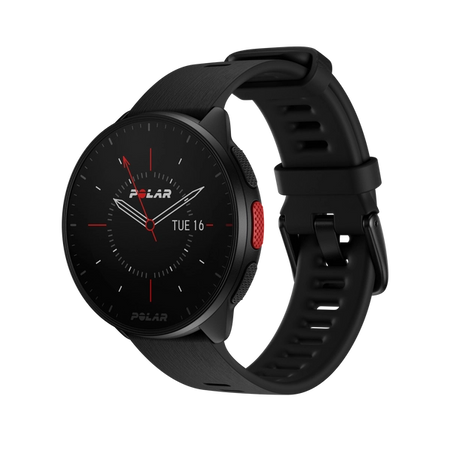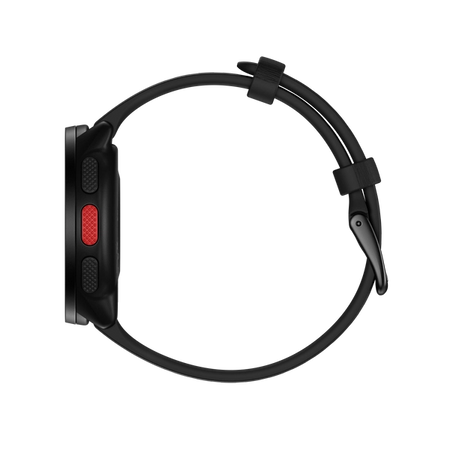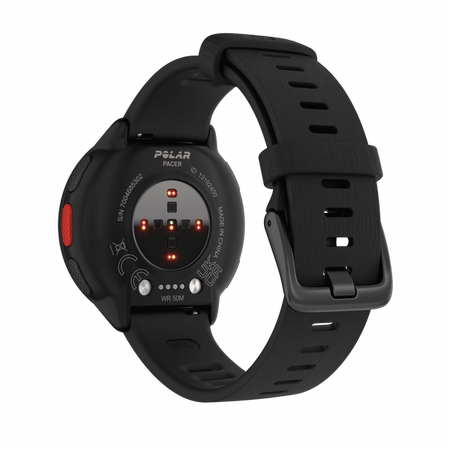 Description
Specifications
GPS Running Watch
This is a no-nonsense GPS running watch that gives the modern runner all the essentials, plus the specialised training tools they need to do one thing better: Run.
Dimensions
Width: 45 mm
Height: 45 mm
Thickness: 11.5 mm
Weight
Total weight: 40 g
Total weight without wristband: 23 g
Display
Display type: MIP
Display size: 1.2 Inch
Display resolution: 240 × 240
Touch screen: No
Always on display: Yes
Ambient light sensor: No
Performance
CPU speed: 200 MHz
Memory: 5 MB
Storage: 32 MB
Recording mode: No
Materials
Case material: Plastic
Screen material: Gorilla Glass
Bezel material:
Geo location
GPS: Yes
Glonass: Yes
Galileo: Yes
QZSS: Yes
Assisted GPS: Yes
Assisted Glonass: Yes
Assisted Galieo: Yes
Assisted QZSS: Yes
Connected GPS: No
Connectivity
Bluetooth version: 5.1
USB cable: Propriatery / USB-A
Durability
Operation temperature min: -10 °C:
Operation temperature max: 50 °C:
Water resistance: WR50
Tested against military standards: No
Sensors
Precision Prime™: Yes
Barometre: No
Magnetometer compass: No
Accelerometer: Yes
Battery
Battery capacity: 273 mAh
Battery type: Li-Pol
Battery rechargeable: Yes
Battery life training mode, up to: 35 h:
Battery life watch mode, up to: 1032 h:
Battery life with power save training mode, up to: 100 h:
Misc
Stopwatch: Yes
Speed pace: Yes
Countdown timer: Yes
Interval timers: Yes
Manual laps: Yes
Automatic laps: Yes
Autostart stop: Yes
Vibration alerts: Yes
Alarm: Yes
Clock: Yes
Backlight: Yes
Front led light: No
Date and weekday: Yes
Time of the day: Yes
Button lock: Yes
Updateable firmware: Yes
UI languages
English
German
French
Italian
Dutch
Norwegian
Spanish
Portuguese
Swedish
Finnish
Danish
Polish
Russian
Turkish
Indonesian
Czech
Japanese
Chinese (simplified)
Hungarian
Estonian
Slovenian
Click & Collect
Frequently asked question
If you would like to Click and Collect your online order, simply choose "Click & Collect" at checkout. 
Please allow 1-2 days for Click and Collect orders to be ready for collection.
Convenient and complimentary, order online and collect in-store.
Please see our store opening hours for Click & Collect here.
Please allow up to 14 days for your personalised items such as club gear to be delivered.
Delivery Info
Fast Delivery
Delivery for orders in the Republic of Ireland is usually Next-Day if you place your order by 4pm. Some exceptions apply. Please allow up to 14 days for your personalised items such as club gear to be delivered.
Get In Touch
If you have any other questions about delivery or anything else, please don't hesitate to get in touch with us anytime! You can view all our delivery info here.