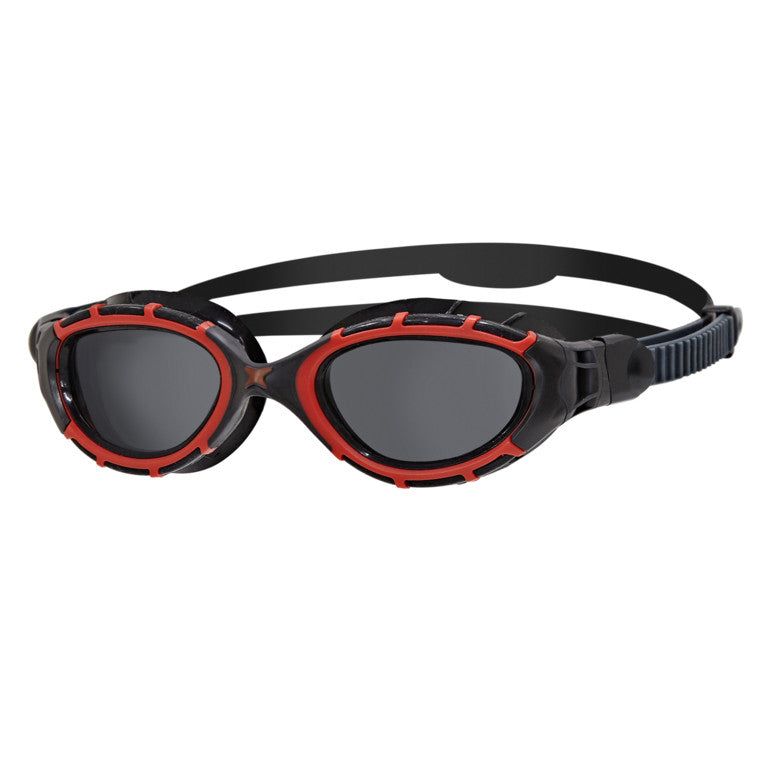 Predator Flex Polarised| Red/Black Smoke Polarised Lens
Description
Specifications
Get ready to experience our Best Fit Yet, with our Predator Flex Polarized swimming goggles. The Predator Flex range offers unrivalled comfort and fit, thanks to the use of 3D flexpoints for enhanced frame flexibility and a customised fit.
As no two faces are the same, we have introduced two different sizes; Regular Profile Fit, and Smaller Profile Fit. Coupled with their new Advanced Ultra-Fit™ gasket, for exceptional comfort, our Predator goggles now fit more faces than ever before.
Our Predator Flex Polarized Goggles come equipped with a polarized lens, making them an ideal choice for the outdoor swimmer, as they battle any bright lighting and glare. There's no need to worry about fog either, as these lenses are impregnated with anti-fog tech, there definitely won't be any 'finger swiping pit stops' in these.
Two available sizes, regular fit, and smaller profile fit
Exclusive Advanced Ultra Fit™ gasket, designed to reduce pressure around the eye socket for exceptional comfort
Polarized lens, ideal for high level of light
CLT™ - Curved Lens Technology offers 180-degree peripheral vision
Anti-fog lenses to make sure you can swim clearly
UV Protection to protect your eyes from high levels of light and harmful UV rays from harmful rays
3D Flexpoint for an even better fit
Split strap to ensure an even more security
Quick-adjust strap for the swimmer that's on the go
Fina approved
Predator Flex Polarised| Red/Black Smoke Polarised Lens
Click & Collect
Frequently asked question
If you would like to Click and Collect your online order, simply choose "Click & Collect" at checkout. 
Please allow 1-2 days for Click and Collect orders to be ready for collection.
Convenient and complimentary, order online and collect in-store.
Please see our store opening hours for Click & Collect here.
Please allow up to 14 days for your personalised items such as club gear to be delivered.
Delivery Info
Fast Delivery
Delivery for orders in the Republic of Ireland is usually Next-Day if you place your order by 4pm. Some exceptions apply. Please allow up to 14 days for your personalised items such as club gear to be delivered.
Get In Touch
If you have any other questions about delivery or anything else, please don't hesitate to get in touch with us anytime! You can view all our delivery info here.