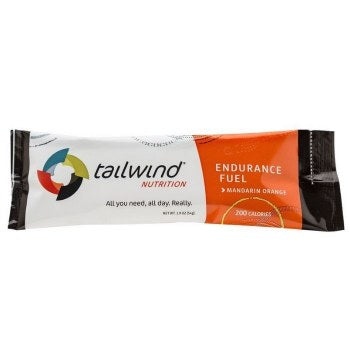 Tailwind 2 Serving Stick Pack | Mandarin Orange
TAKE TAILWIND ON THE GO – ENDURANCE FUEL DRINKS BUNDLE
Tailwind 2 servings are perfect for fueling on the go. Just tear and pour into a water bottle for 200 calories of Tailwind goodness, no mess, no fuss. Our assorted bundle is a great way to try all 8 Tailwind Endurance Fuel flavours.
Complete calories, electrolytes, and hydration: Ditch the gels, chews, and pills, and go all day with just Tailwind's Endurance Fuel Drinks Bundle.
No gut bombs: Stomach problems? You'll love Tailwind. Unless you enjoy being doubled over, retching.
Tasty all day: Clean, light flavors taste better the longer you go.
Hydration pack love: Dissolves on contact with water and cleans up with a quick rinse. No residue or science experiments!
All natural: Crystal clear with no dyes, preservatives or 4-syllable pixie dust.
USAGE OF ENDURANCE FUEL DRINKS BUNDLE
Each single serving contains 200 calories. Mix contents with 20-24oz of cool, clean water. Give it a shake or two, and go! Sip regularly for steady energy, electrolytes, and hydration.
NATURAL INGREDIENTS AND ORGANIC FLAVORS
Non-GMO Dextrose (Glucose), Non-GMO Sucrose, Citric Acid, Sodium Citrate, Sea Salt, Organic Flavour, Potassium Chloride, Magnesium Citrate, Calcium Carbonate, Organic Caffeine (Caffeinated flavours only)
Gluten free/vegan/no soy/no dairy
Tailwind 2 Serving Stick Pack | Mandarin Orange
Click & Collect
Frequently asked question
If you would like to Click and Collect your online order, simply choose "Click & Collect" at checkout. 
Please allow 1-2 days for Click and Collect orders to be ready for collection.
Convenient and complimentary, order online and collect in-store.
Please see our store opening hours for Click & Collect here.
Please allow up to 14 days for your personalised items such as club gear to be delivered.
Delivery Info
Fast Delivery
Delivery for orders in the Republic of Ireland is usually Next-Day if you place your order by 4pm. Some exceptions apply. Please allow up to 14 days for your personalised items such as club gear to be delivered.
Get In Touch
If you have any other questions about delivery or anything else, please don't hesitate to get in touch with us anytime! You can view all our delivery info here.